It's remarkable how many local government services need the end user to share proof of something. It might be ID, or some other validation of their eligibility to use a service. Or it might be some other essential information. Very often, this information is sent by post, email, handled by phone call, or, in the case of verifying someone's ID, means a face-to-face appointment.
Evidence does away with all that
Evidence lets your end users share their evidence and other information with a simple online service. It's available 24/7 and is built with all kinds of devices in mind, so users can share their information anywhere, anytime.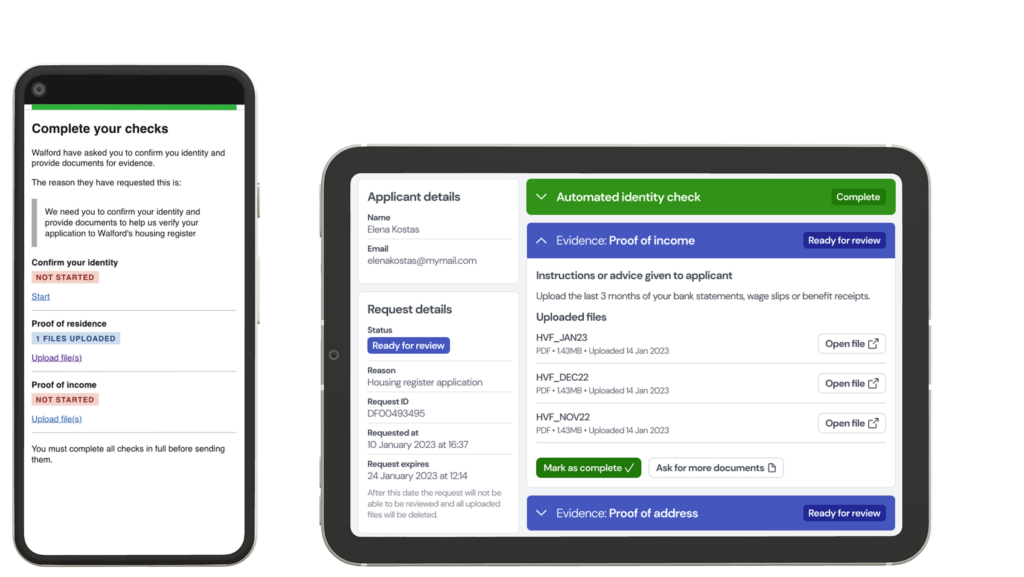 And with reliable ID verification built in, you can leave risky manual checks behind and trust that your users are who they claim to be.
No more follow-up calls to fill in the blanks. It's designed to save your organisation the time and money spent on all that admin so you can put it to better use.
With a faster, easier way to share information, customer satisfaction improves as well.
Peace of mind for you and your service users
It isn't just about simplifying paperwork. It's about peace of mind.
Peace of mind that your users will know what to do and share the right information in due time, thanks to easy-to-follow instructions and helpful notifications and well-timed reminders to take action.
Peace of mind that the personal data shared by your users is in good hands. With robust end-to-end security, consent management, and fully-audited user access, Evidence keeps your users' information and documents safe at all times.
And because Evidence is a true Software as a Service (SaaS) product, you can be assured that you'll always benefit from the latest improvement and free and responsive customer support without hidden costs or complicated fee structures.
Many possible applications
We know Evidence can be a game changer in many council services, like:
social care direct payment monitoring
social care financial assessments
housing applications
new employee spot checks
taxi licence renewals
​​But there are likely lots more applications that we haven't spotted yet!
We'd love to hear your ideas about where and how our product could make a difference. Evidence is only starting its journey. Now's a great time for you to get involved and help us shape the product to make sure it's as helpful as possible for your services!
Book a demo today
Do you want to learn more about the potential benefits of Evidence for your organisation? We'd love to give you a personal tour of the product and hear about your needs in a short informal online chat.
Book your demo today – get in touch via our product page.
About the Author