Housing Repairs
Reduce call wait times and manual scheduling with our digital housing repairs service.

Don't leave your residents waiting. Cancel and amend appointments to fit changing schedules.
How Housing Repairs can help
Streamline repair operations

Offer a simple online service, accessible 24/7, on any device, that takes just 4 minutes to use.

Seamless integration

Housing Repairs is compatible with existing systems used by you and your contractors

Fully accessible

We've designed everything with usability in mind, so it's easy to understand and use on all devices.
Reduce missed appointments

Through integration with your scheduling system, residents can book an appointment that suits them.

No login required

Significantly improve accessibility and encourage the use of digital channels

Easy onboarding

Begin to offer a digital housing repairs service in just one week. Our customer support team will help you every step of the way.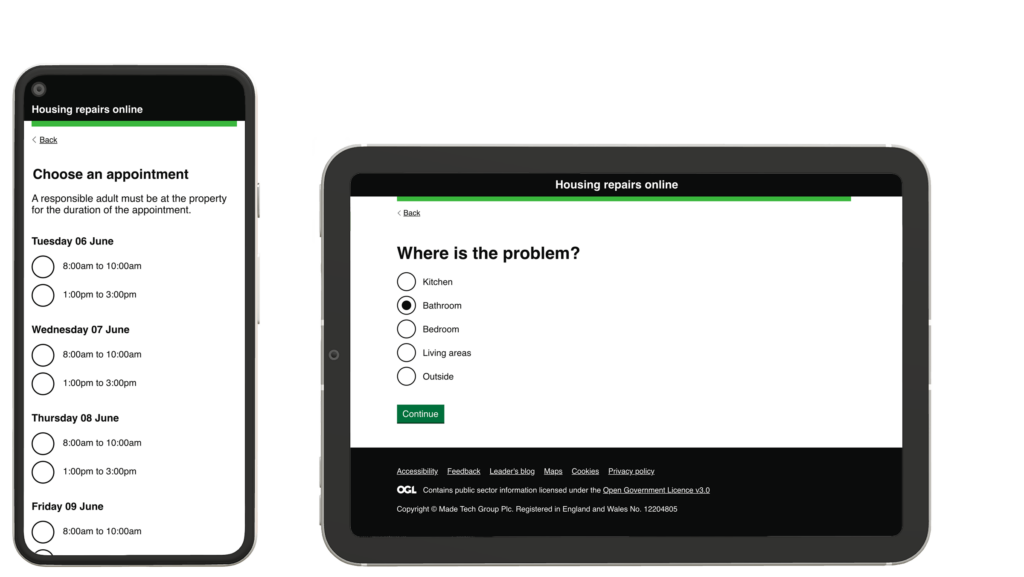 Why choose our product?
No technology stress

We provide free comprehensive technical support from roll-out and beyond.

Understand costs at a glance

There are no complicated budgets or fee schedules. Plan your rollouts with simple, transparent costs.
Get improvements for free

Don't worry about costly upgrades and improvements – you'll get every update on day 1, at no extra cost.

Save time and money

SaaS products are the perfect choice for organisations facing increasing demands and falling budgets.
Learn more about Housing Repairs
See how easy it is for your users to raise and schedule a housing repair request online.
Procurement
You can contact us directly to procure our products. They're also available through public sector procurement platforms.
Vertical Application Solutions (RM6259)
Technology Services 3 (TS3)
G-Cloud 13
Case study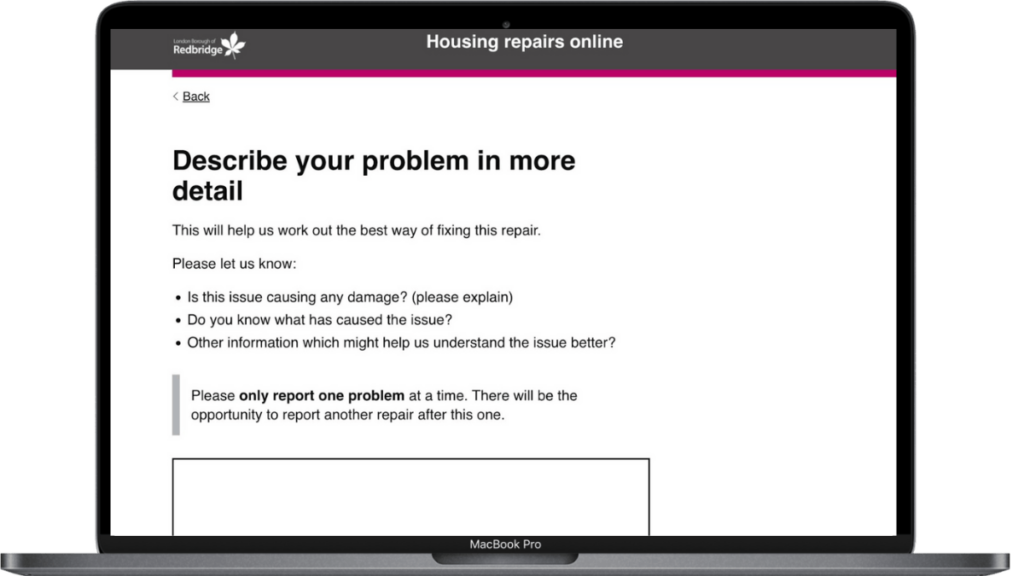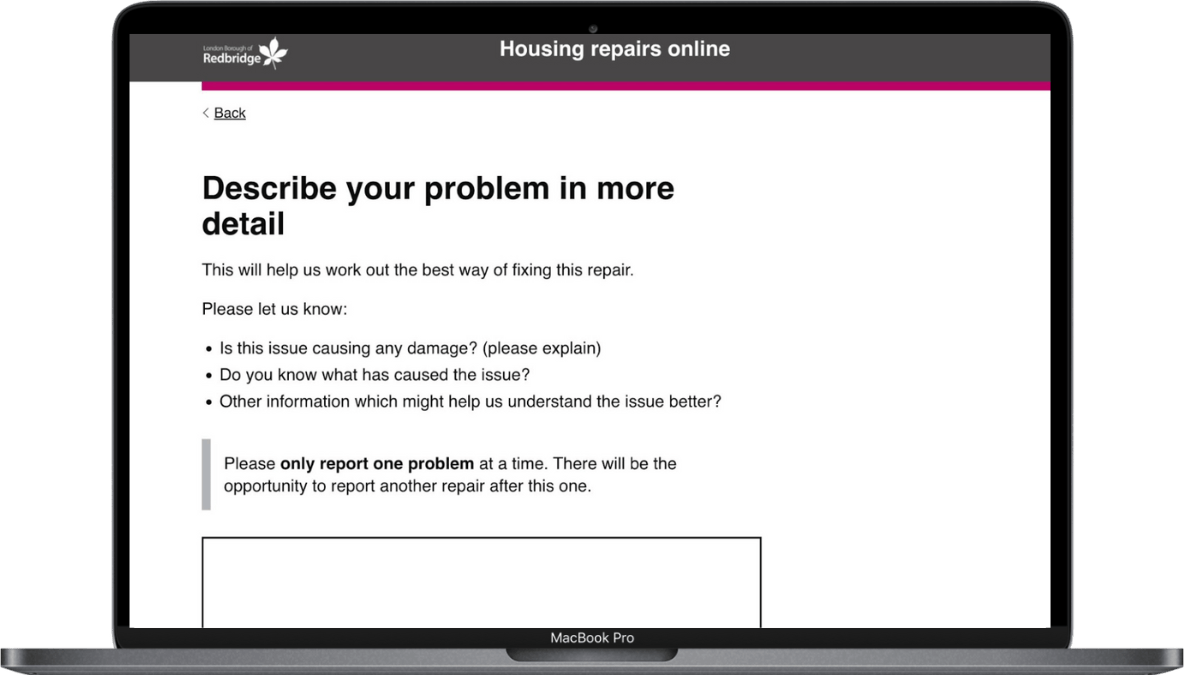 Reimagining housing repairs in the London Borough of Redbridge
Improving the way housing repairs are booked, managed and tracked with a digital SaaS product.
View all case studies
Want to see a demo?
We'd love to chat about how Housing Repairs could support your team's needs – with no obligations.
Get in touch today and we'll:
showcase a demo of the product in action
talk you through all the features that can align with your processes
explore the ways it connects to your pre-existing tools

share upfront and subscription costs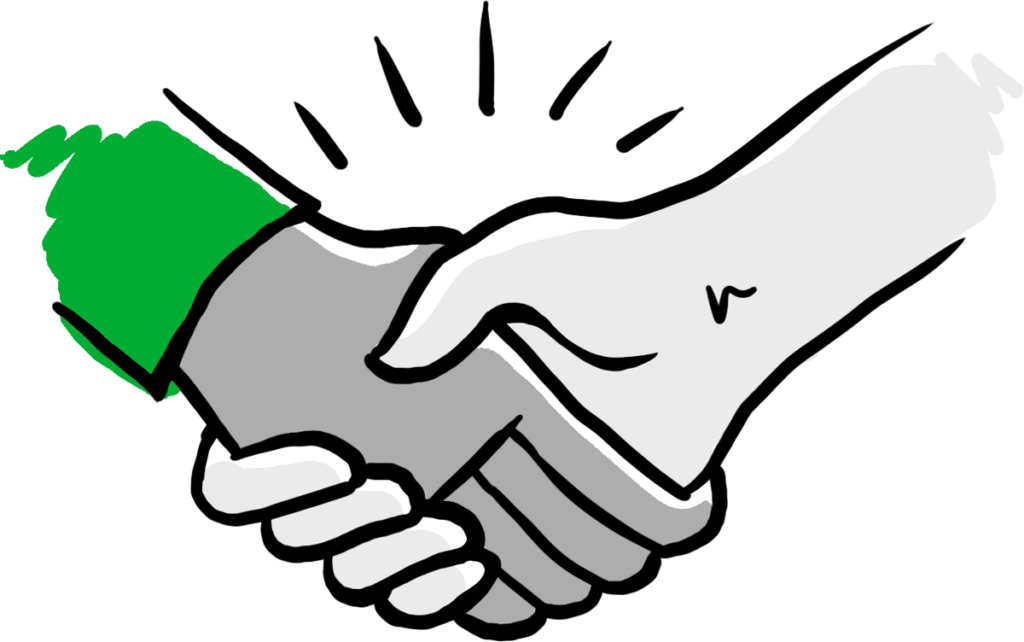 From the blog
Online housing repairs: why no login is the right fix
If you're thinking of putting in place an online housing repair service, it's time to weigh up the pros and cons of having a login.
How we're shaping our Housing Repairs product to address communal repair needs
Since releasing our Housing Repairs SaaS product in March, we've been working to extend the product's functionality. In the last few weeks we've added support for communal repairs. 
Tenant engagement conference 2023
Join us at the Tenant Engagement Conference 2023 for a panel on the future of housing, where user experience and engagement is front and centre.
LocalGovCamp 2023
Join us at LocalGovCamp 2023 to discuss digital identity in local government.
Reporting and scheduling online housing repairs for your residents just got easier. Let us show you how.
Book a 1-to-1 demo