In 1926, Carter Woodson created the first Black History week. Rather than highlighting the history of Black people, it celebrated Black people and their contributions throughout history as a much bigger story. Nearly 100 years later and that week has expanded into a month in multiple countries.
This year has been a very special Black History Month (BHM) as it coincided with some major milestones. 2023 is the 75th anniversary of Windrush and the NHS as well as the 50th anniversary of hip-hop. Celebrating these milestones is only possible thanks to the contributions and efforts of the Black community.
Celebrating Black progress
Inspired by these events, I wondered how we could use technology to celebrate this journey. How might we connect with local Black-run businesses and address the issue that only 2-3% of the UK tech workplace identifies as Black? And how do we focus on the triumphs rather than the trauma in our history? On 13 – 14 October 2023, Made Tech held its first Blackathon.
For our readers who aren't part of the tech community, during a traditional hackathon small groups work together on a technical solution to a problem statement or theme. We took this idea and made our theme "Celebrating Black Progress" – as a play on words, we called our event a Blackathon. We wanted to host an event that honoured the work of Black inventors, writers and activists that have made a significant impact on society through tech. Here's how it went. 
Bringing the community together
People from different disciplines including software engineers, designers, project managers and more came together to collaborate in 2 teams. They worked together to use technology to imagine and build what celebrating Black progress looks like.
The teams talked, sketched, ideated, user tested and coded their way through to the submission deadline on Saturday afternoon. Projects were scored based on their accessibility, impact, creativity and ability to celebrate Black progress.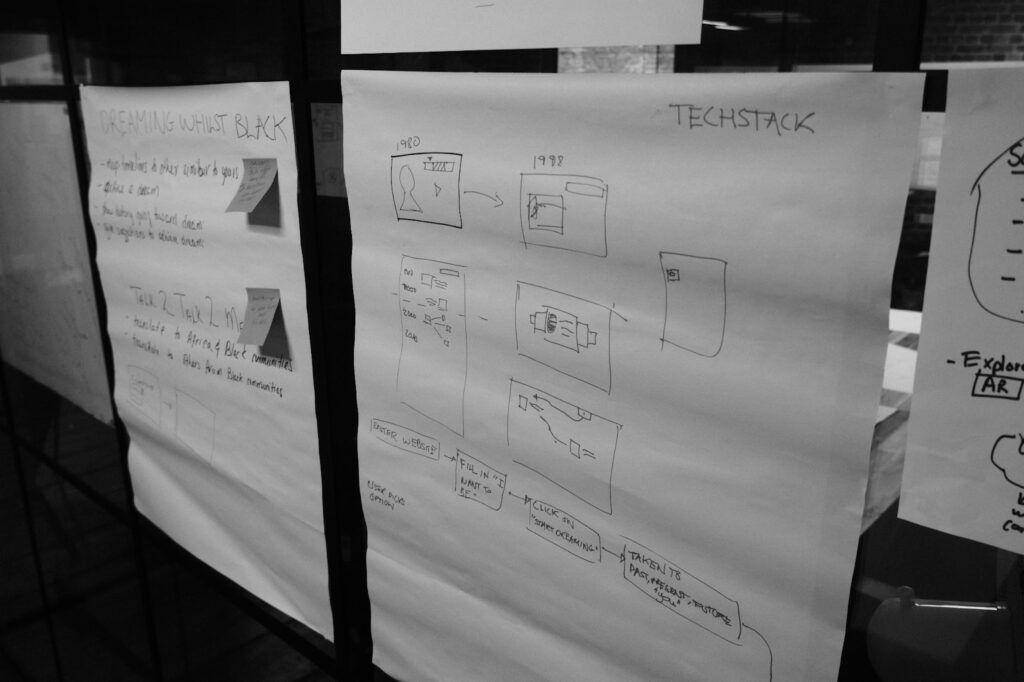 Team GWB entered a mobile game best described as "Guess Who? meets Skribble." An image of a historical person would appear on screen, players would then have to guess who it was or what they were known for based on the clues the host chose to reveal. You scored more points the sooner you guessed correctly and the host rotated after every round.
Team DWB took on the idea of ancestry and careers. Imagine you want to be a footballer and you're curious about where to begin. Their idea "Dreaming while Black" places you in an interactive timeline that shows you people that have achieved that dream before you, but also signposts you to resources and activities to help you pursue it. It centres you in the middle of your journey, linking you to the past and future.
When the dust settled Saturday afternoon, GWB narrowly emerged as the winner but after 2 days of inspiring stories, naming a champion was simply the icing on top of a wonderful cake. Most importantly, over the course of the event we created a space where members of the Black community could tell their stories.
A huge success!
The official theme for this year's Black History month was "Celebrating Our Sisters." We wanted to include that in our event somehow and were delighted to work with local female-run companies like Whisk and Things and Earth to Roots throughout the Blackathon. 
We gave a moment for attendees to reflect on what it meant to have a space to create projects that allowed us to celebrate BHM in a way that resonated with us as individuals and as a company. Others shared that it was the sense of community and working with those you normally don't get to that left them feeling inspired and invigorated.
For me, the biggest takeaway from Made Tech's first Blackathon was witnessing the start of something. If 20 of us can meet and develop ideas of celebration and hope in 2 days, what could we do with 40 or 100 days? The more of us that are in the fields of science, technology, engineering and medicine – the closer we are to developing more equitable technology.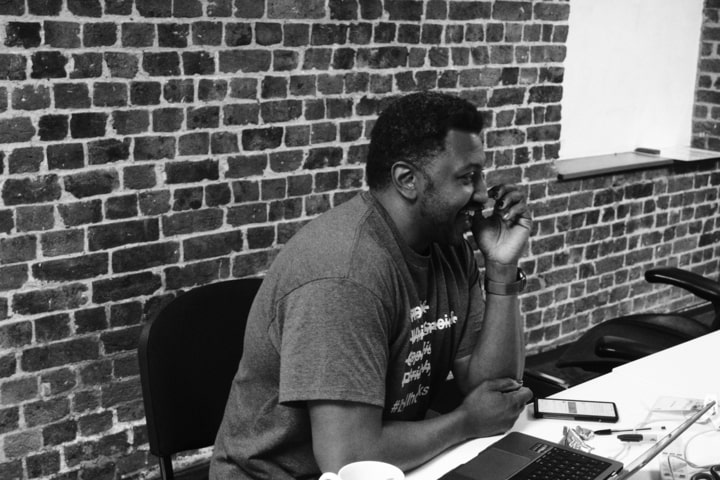 I want to say a big thank you to Made Tech for giving us the space to make this happen, and for the volunteers and attendees for believing this needed to exist. I couldn't end this post without a special appreciation to the organising team – Kayleigh, Miles, Sen, Flo,Renny, and Cheryl. There's a saying that goes "If you want to travel far, travel together." Thank you for helping make the start of this journey possible.
If you'd like to read more about what the team have been up to, take a look at our latest blog posts on Life at Made Tech.
About the Author