The public sector invests so much time and money in design and research, but only around 10% of it turns into real services. It's time to get this number up, so let's take action.
I've seen this happen a lot: public sector teams will spend weeks or months on research and maybe do a bit of supporting design or prototyping. But the amount of investment isn't equal to the new and improved services we're seeing. In my experience, only around 10% of these design projects turn into a fully functioning service. This however doesn't mean in 90% of user centred-design (UCD) work discoveries there are no unmet needs, quite the opposite in my experience…
Too often we're missing out on delivering new or improved services that can make a tangible difference to people's lives. Teams are more in control than we give ourselves credit for to improve upon that 10%.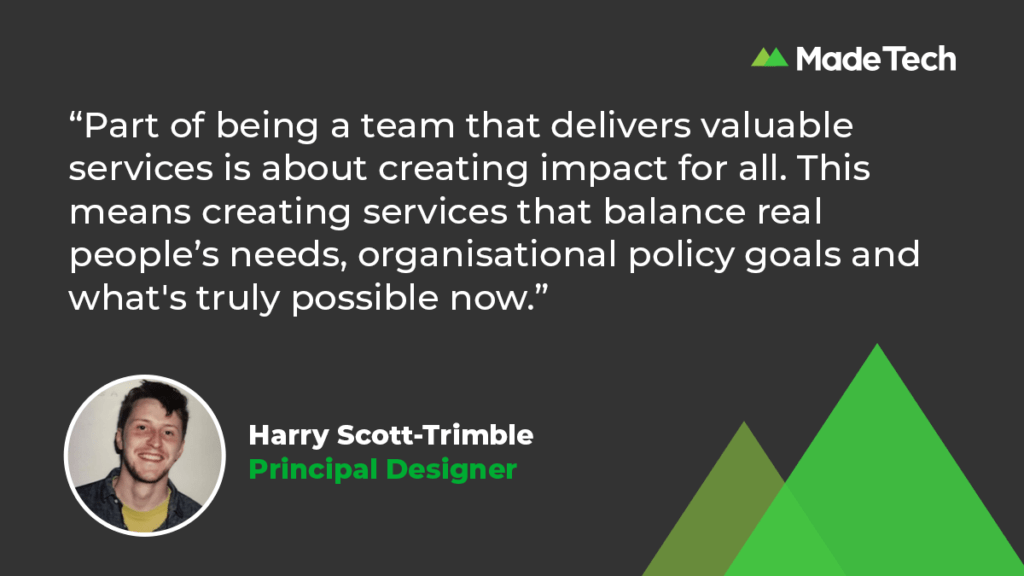 Don't strive for certainty over finding what's possible
Part of the challenge is that often teams will try to get certainty over something it isn't possible to be totally certain about. The truth is, we shouldn't aim for perfection before moving forward, or we'll miss out on opportunities to make things better.
In many cases, as soon as it gets to the 'let's invest and turn it into something real' stage, there's hesitation and teams look for more evidence through even more research. However the real risk here is keeping legacy technology and not addressing unmet or urgent needs.
Part of being a team that delivers valuable services is about creating impact for all. This means creating services that balance real people's needs, organisational policy goals and what's truly possible now. This is tricky but once you master it, you're on track for success.
Get the thing in the real world!
After a point doing more research won't tell you anything you don't already know, and it probably won't change any stakeholder opinions on moving forward with a project. Why not start a conversation about actions instead? Here's what you can do next.
Do research to inform priorities
Reframe what discovery means to your team. It shouldn't just be about user needs (though this is important). It's about figuring out what your organisation needs to do first to improve or build a new service. Focus on learning as a team what is going to help the organisation make the best decision for users and its goals.
Make time for decision makers
Prioritise where you're going to spend most of your time. Spend the same amount of time, if not more on stakeholder engagement – it's really important to get decision makers on board. Keep them involved throughout and not just at the end of say a discovery phase, when more budget is needed to continue. Otherwise unmet needs and good ideas will remain just that: unmet and ideas.
(If you're not familiar with discovery phases, take a look at how the discovery phase works in the GOV.UK service manual),
Test ideas before it's too late
Focus on testing real things early. We have a lean approach at Made Tech and we're always thinking about what to test next and how to build something. See it as an opportunity. If you wait too long to move things forward, the world will move on and challenges can become more complicated. Priorities and leaders can change quickly in the public sector. If you wait too long to test ideas, your biggest supporters might have more on.
Avoid working on a problem that's too big
Sometimes you might need to refocus and find any unmet needs in your service. Work on a project within your control where you can make a real impact. It's great to be ambitious, but be cautious of expanding the problem a little too much. Make progress on the challenge you're facing and take it from there before attempting a full digital transformation.
One team
UCD can often be seen as totally separate, rather than as part of the same team with policy, operations and technology – people that work closely together on a problem. If UCD is a seperate team, research and things such as prototyping will remain removed from decision making and action. Creating a culture of support and togetherness can encourage trust across disciplines.
Educate by doing
Sometimes for UCD to be useful, we need to educate teammates about its value for those who've not had a chance to experience it before. Rather than more theoretical education about user-centred design, actively get teams and stakeholders involved. Sharing knowledge and showing others how we approach a problem can build confidence. Encourage everyone to shift mindsets to understand that mistakes made throughout the journey are lessons and opportunities to grow.
Some ideas from our UCD team
We need to have more open conversations about how to get more real services built or improved. Getting fresh perspectives from the team will help you see the whole picture, and put you in a better place to develop actionable points for success. Here's what some members of our UCD team had to say.
Inspire others and shift mindsets
Mieka Webber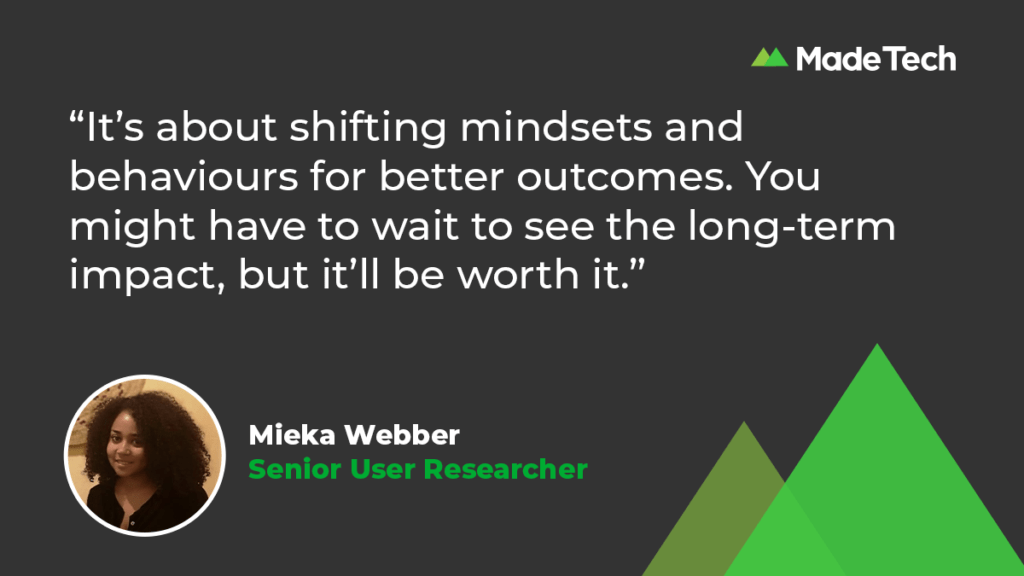 Engage, coach and inspire teams to take ownership and responsibility for building user-centred products and services. It's about shifting mindsets and behaviours for better outcomes. You might have to wait to see the long-term impact, but it'll be worth it.
Sometimes the things you test initially fail and you have to think of a plan B – that's a normal part of the design process. See it as an opportunity for growth. Make note of the challenges and how you overcame them so future researchers and designers can avoid making the same mistakes, and have more time to continuously improve.
Ship, measure and iterate
Jon Roobottom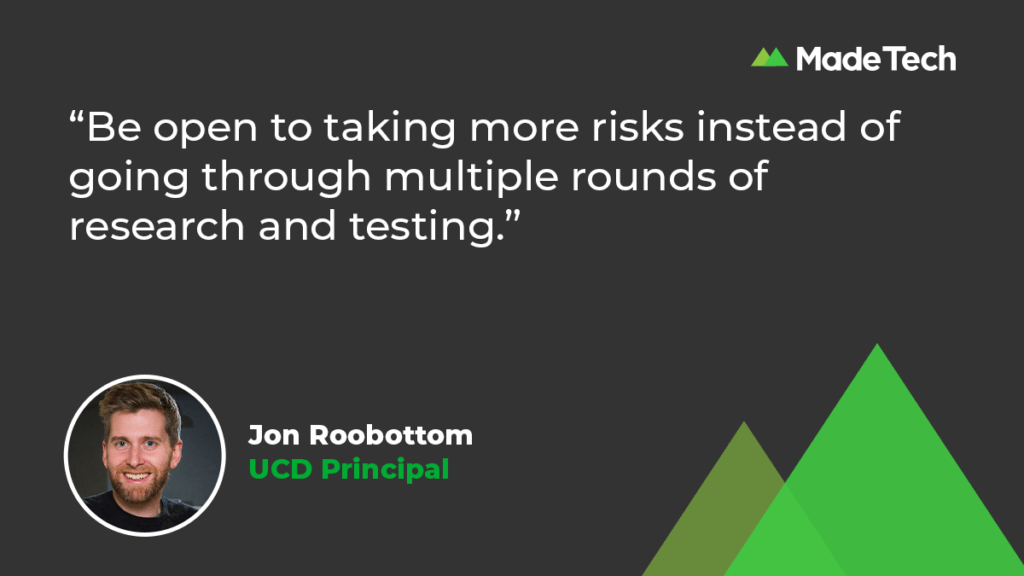 Sometimes solutions to known user problems clash with business goals, or a legacy software seems too difficult to replace so it becomes hard to convince the rest of the organisation to take a project forward. Be open to taking more risks instead of going through multiple rounds of research and testing (unless the thing you're building is very big and risky). It's better to take the ship, measure, and iterate approach. Also, everyone in the team should have a good understanding of your ways of working (e.g. agile, waterfall) so there's trust and understanding. This will help make sure good insights don't go to waste.
Let's build and improve more services
User-centred design projects are our bread and butter, we do it every day. And we believe that really focusing on good practices across the public sector can get more impactful services built. By fitting design into broader services across existing teams, together we can help raise that 10% statistic – users of public services need us to.
If you want to learn more about the power of user-centred design join our upcoming webinar. We'll be sharing practical tips on how you can apply user-centred practices to improve your chances of delivering a good service, whilst saving time and money.
About the Author