We recently attended Black Tech Fest, an event organised by Colourintech. Celebrating diversity and excellence within the tech industry, the event provides a platform for Black leaders and emerging talents to come together, network and share their insights. The day was filled with enriching talks, networking and valuable takeaways that left us feeling truly inspired and motivated.
Why diversity matters
The essence of the event lay in its celebration of diversity and the acknowledgment that representation matters. As we progress along in our own careers, being able to witness women of colour in high-ranking positions was hugely inspiring. It acted as a great reminder that anyone can achieve success like that – no matter what level you're at right now. One notable part for us was the importance of seeing people from all walks of life, reinforcing the idea that we're in the room because we all belong there.
What we learnt
Over the day we attended many talks, but one that left a permanent mark on us was called 'Shattering Ceilings with Grace: Perspectives from Black Senior Women Leaders'. Led by Mia Morgan, Felicia Asiedu, Pauline Miller and Zulieka Philips, the session explored their journeys as Black leaders in tech.
The topic that resonated most with us was imposter syndrome—a struggle that reared its head even at the most successful part of their careers. Their advice was practical and transformative.
Know yourself so others can't dictate who you are
Recognise your strengths and celebrate them
Challenge negative thoughts by learning how to deconstruct what we tell ourselves and change it into something positive
Seek feedback and maintain a learner's mindset but always remain humble be willing to learn
Our favourite takeaway during this session came from Pauline Miller who gave the advice to "Add "YET" to the end of your sentences. You may not know something YET, but you are going to!"
Simply adding the word 'yet' acknowledges your current position, but also reinforces that you're on the path to where you want to be. It encourages your mind to take on a more positive and determined outlook. A practical example is, "I'm not the best at using this toolstack, YET!"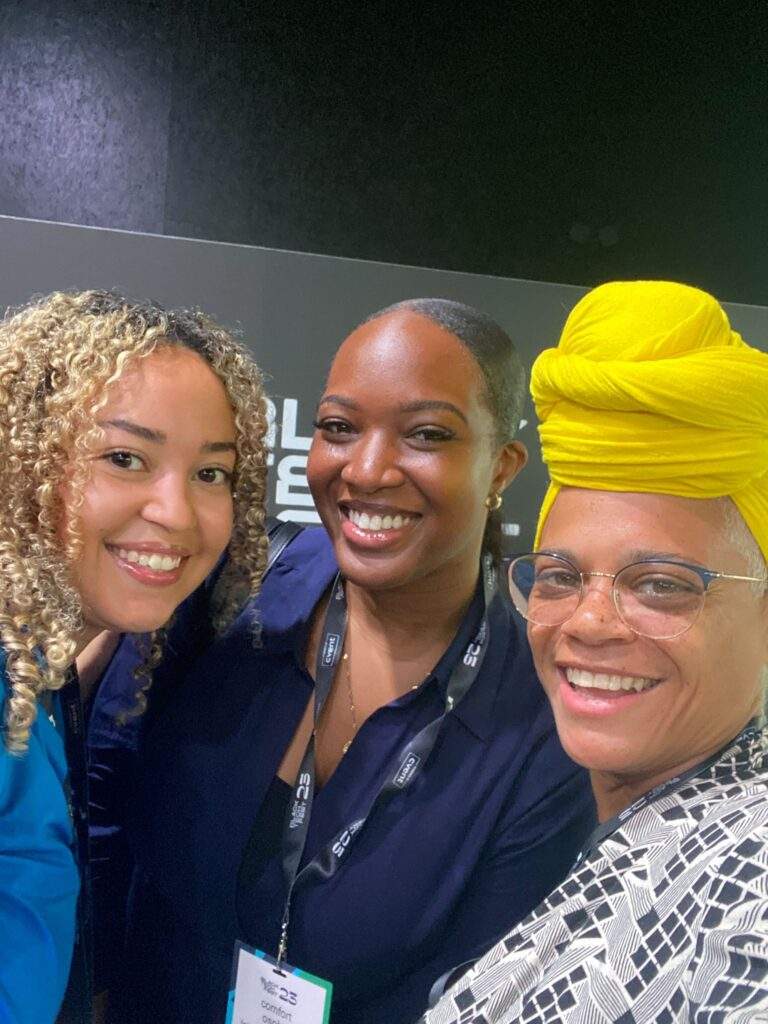 You belong in the room
One theme that came up time and time again was affirming that we belong. The speakers urged us to remember that we are in the room because we deserve to be. We belong there. They emphasised the shift from self-doubt to self-assurance, changing internal narratives from "I can't" to "I can", "I am capable" and "I am good enough."
Allyship and advocacy
Next up was the significance of allyship. The message was clear – individuals need to work on themselves and their organisations to be better allies. The panel discussed knowing when to step in and out of conversations and situations. They shared examples from their own lives to show how true allies affect change without being prompted. The speakers described an effective ally as curious, compassionate, adept at bridge building and amplifying diverse voices.
Navigating your career Everest
Tunji Akintokun, Head of Enterprise Solutions at LinkedIn also shared his insights on career growth. His advice included staying focused, agile, ahead of the curve, being a continuous learner and knowing when to ask for help. Tunji spoke about the need for mentors, coaches and sponsors as well as the importance of knowing when the skills of each would take your career to another level.
The future of tech diversity
Black Tech Fest was empowering and inspiring. For us it reinforced the idea that diversity drives innovation and that everyone has a place and purpose in the tech industry. Don't just take it from us, here's what our colleagues who also attended the event had to say.
"My favourite part was looking around and seeing an auditorium full of joyful, inquisitive and unapologetically Black faces. It gave me a real sense of community and belonging."

Derek Baker, Software Designer
"I loved the 'shattering ceilings with grace: perspectives from Black senior women leaders' panel. It's so rare to see even one Black female leader in digital organisations, so seeing 4 on stage and being surrounded by other driven Black women was an incredible feeling."

Kayleigh Derricutt, Managed Services Principal
"I really enjoyed the atmosphere they created. Seeing so many Black faces, hearing familiar music genres and seeing food from different Black cultures at a tech conference left me feeling really energised afterwards.

Miles Egbuchiem, Designer
As we move forward, It's important to remember the lessons learned while striving to be allies, advocates and lifelong learners. Together, we can shape a more inclusive and powerful future for tech.
If you'd like to watch the sessions yourself, you can find everything on the Black Tech Fest Youtube channel. You can also read more about what the team have been up to by taking a look at our latest blog posts on Life at Made Tech.
About the Authors