Hackathon: an event where teams collaborate on a rapid engineering task over a few days.
Usually, when we hear the word hackathon it's easy to think of an intense atmosphere with competing teams beavering away to be the first to crack the code. The hackathon I attended in October 2022 was a little different.
As a group of associates and academy grads we attended the Microsoft x Met Office Hackathon, exploring the impact of weather and climate data on innovation. The Met Office has been at the forefront of global weather and climate science for over 160 years. So this was a really exciting event.
Your mission, should you choose to accept it
At the time of the hackathon, world leaders were gathering at the COP27 conference in Egypt to discuss the future of global governance. They looked at ways to manage the effects of climate change we're seeing on the planet. 
This set the context for our 3 days. Using data provided by the Met Office, we were asked to think about ways technology can manage future effects of climate change and support society. Easy, right?
We used a range of real data sources from daily forecasts to climate projections all the way up to 2079. Microsoft tech experts, Met Office data scientists and ESRI UK consultants floated around giving advice, answering questions and helping us with our ideas. There were also daily lightning talks on topics from Azure machine learning to sustainable technology.
A people-first weather alert system
In 2022 we had the highest ever temperature recorded in the UK of 40.3 degrees Celsius. And that's why we started with forecast information and public health. We're beginning to live in extreme weather conditions and this puts people and their health at risk. We wanted to create something that would support the most vulnerable in society.
As delivery manager for the team, I guided us through the task, keeping us focused through the pressures of a 3-day event. I made sure we communicated frequently and in the open, drawing attention to any gaps. It was also my job to generally support our team.
We spun up an extreme weather alerts interface that we designed to comply with the GOV.UK Service Standard while being accessible to people with all types of needs. The idea was that it would be primarily used by health professionals. Users would sign up to our system and then organise care and support to those most at risk of extreme weather effects. Here's how we did it.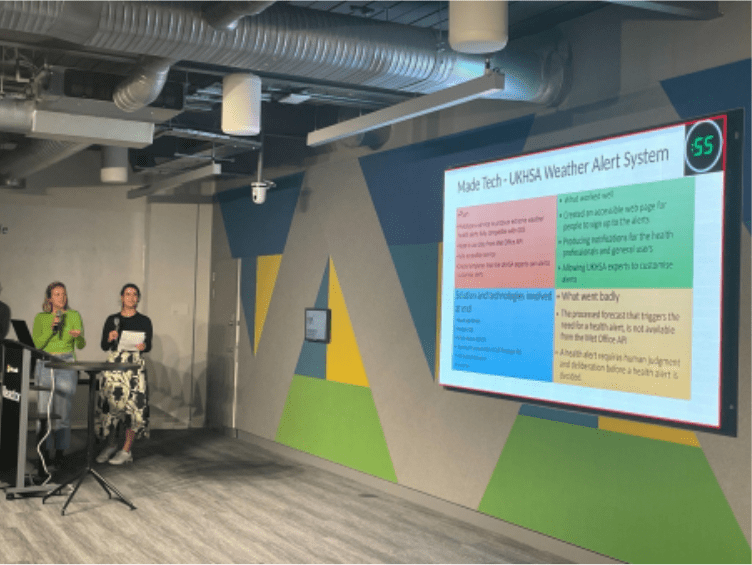 Day 1: Let's get started
We first split out tasks for design and development in the team on a Miro board based on our different skills. Then we ran an exercise called Crazy 8's – a fast sketching exercise that challenges you to sketch 8 ideas in 8 minutes. This helped us come up with different concepts of how far we could push the design and see what might be missing from our ideas.
There were a few ideas about how we could grow the Met Office's weather alert warning. We thought about adding text messages or Alexa alerts with colour-coded flashing. This would be connected to a maps tool to show alerts in local areas and have the option for businesses to sign up as a collective.
We trialled some user flows and considered Microsoft Azure B2B and B2C services for sign up for alerts. The Met Office and UK Health Security Agency (UKHSA) would also have a separate log-in to all other users.
Day 2: Kicking things up a notch
On day 2 we really threw ourselves into the build. We started the day by assigning tasks in Trello and working on the sign-in flows on Figma.
From there, we created a home page to show the current alerts and iterated on these throughout the day. The developers in our team were now able to start building these in the prototype kit. And to close the day, we started to create the page flow for the Met Office and UKHSA admins to log in and set up the alert pages. We made a huge amount of progress on day 2.
Day 3: Putting it all together
On day 3, we ran through our prototype with our stakeholder at the Met Office, Helen Roberts for some feedback. Here are some of the notes we made from that chat:
the option to create your own alert is really interesting
we could include other weather types which affect health like air quality and effect on exercise, change walk/run route to avoid bad air
for cold weather, wind is more of a factor and this includes direction and speed
there's also a 'feels like' temperature and sometimes wind speed is incorporated in this (for example, no wind makes it hotter)
we could incorporate humidity as it affects sweat and how we cool down
in a thunderstorm, updraft pulls allergens into the air and this immediately affects those with asthma and allergies
we can use what we've started to create a template for all extreme weather alerts for health
auto recognition in the sign up for people with NHS or .gov email address to receive more specialised advice would be really valuable
We spent the rest of the day iterating based on this feedback. We focused on an alert email that users would receive from UKHSA and the confirmation email to verify and complete sign-up.
Next up we prepped for our final presentation. We filled out a template from Microsoft in a retro style set up on what went well and what didn't. We then presented a few pages from our final prototype and finished with a fan favourite – the retro.
Innovation and collaboration
Over the 3 days it was great to work in a collaborative team mostly made up of associates and Made Tech Academy grads. We were able to really stretch our wings in an environment focused on learning and innovation. There were many opportunities to work alongside senior colleagues and industry-leading professionals in this really fun and engaging event. And at the end of it we were able to not only learn about sustainability in software and technology but also create a working prototype!
Overall this was a really interesting hackathon to be part of. It was so valuable to use real data from the Met Office on real problems and creating something that could make society better. It's not an event I'll forget any time soon.
If you'd like to learn more about the work we do, you can subscribe to our Made Tech Insights newsletter to get new blog posts straight to your inbox.
About the Author