Since releasing our Housing Repairs SaaS product in March, we've been working to extend the product's functionality. In the last few weeks we've added support for communal repairs.
In this blog post, we want to share how our Housing Repairs product addresses your communal repairs needs. We'll also look at the user research insights that contributed to these features, and what we're doing next to make our communal repairs features as useful as possible.
Support for communal repairs means councils can now provide a complete housing repairs service with our product, covering all non-urgent repair needs. You can read more about the Housing Repairs product more generally in our Housing Repairs announcement blog post.
It was important we added support for communal areas quickly because 20 to 40% of reports made to local authorities are about communal areas.
Housing repair reports for all areas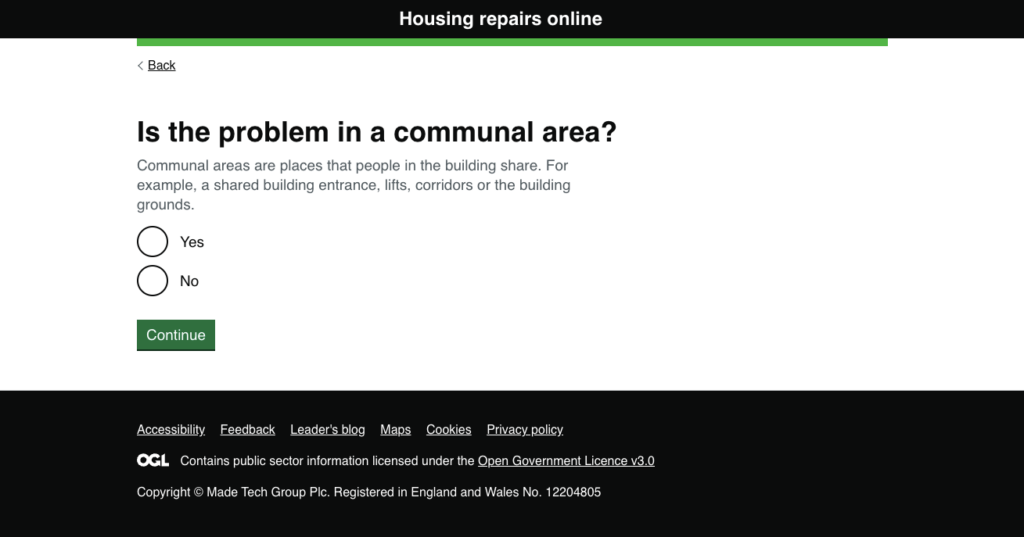 When we launched Housing Repairs, it supported reports for repair needs within residents' private dwellings. Now we support reports from all communal areas, including:
shared entrances
lifts
corridors
stairwells
external grounds
Shared entrances, external lighting and lifts and similar areas directly impact the safety and accessibility of their buildings, bringing peace of mind to residents.
How research insights have shaped the product
"If we haven't got an exact location, that is a killer."

customer support officer
Our user research highlighted that it's vital for local authorities to get the precise location of the repair need when the report is first made. We've extended the reporting flow to prompt and make it easy for the resident by:
asking the resident if the issue is in a communal area, guiding them into a specific communal flow
helping the resident identify the specific building with the repair need, which they can choose from a list based on a post code they provide
providing the full range of possible communal repair locations for the resident to choose from
prompting the user to provide details of the specific location of the repair need, giving them plenty of space to go into detail
Our Housing Repairs product was designed to help local authorities save time and money by reducing reports that come in by phone. It also reduces the need for follow-up calls and pre-inspections. These new features extend these benefits to the full range of repair reports, allowing further cost and time savings.
Needs addressed
Here's a bit more detail on insights we gained from our user research. We ran extensive research with local authorities and end users to understand the main communal repair needs we could address. There was a wealth of insights – more than we can detail here – but here are some of the highlights.
Resident needs
Among other insights, our user research found that residents:
often need to get in touch more than once before an issue is fixed
are sometimes passed back and forth between local authorities and repairs suppliers
can feel timeframes are unclear, and issues take too long to resolve
often find that the status of a repair request is unclear, and that they aren't informed when issues are fixed
face long wait teams when call volumes are high
can resent waiting on the line only to be passed to a contractor
Local authority needs
We found that local authorities:
can struggle with high call volumes for repair reports about communal areas, pulling agents away from other important work
face inefficiencies caused by duplicate reports of the same issue from different residents
lack the information they need to address the communal problem first time
find that their call centre agents often have to act as a go-between for residents and contractors
often don't have access to the contractor's repair status to be able to keep residents informed
All of these needs can be addressed with a good digital service that supports residents in accurately reporting a repair need, and which helps them access the status of a repair job.
Next steps
Though we're very confident Housing Repairs does a great job of supporting communal repair needs, there's more we want to do to make our support for communal repairs as useful as possible. Further needs we mean to address include:
letting residents know an issue has already been reported
letting residents know the status of a repair request
making sure residents, local authorities and repair contractors have access to the same, up-to-date information
Some of the specific features we're considering include:
detecting when a report could be a duplicate and alerting the local authority
updating repair statuses in a dashboard, with updates automatically sent out to interested reportees
providing residents with a view of all outstanding repairs in their building, with an estimated repair date
allowing the resident to flag a late repair with the local authority if the due date has passed
providing feedback links with notifications
Book a demo
Our communal repairs update is one example of how we're following through on our commitment to building continually-improving SaaS products. As councils face increasing budgetary stresses, SaaS products present an opportunity to provide services which move with the times, for an affordable, predictable flat fee.
If you'd like to see how our Housing Repairs product can help save your organisation time and money, request a demo via our Housing Repairs page.
About the Authors