There's not always one path into a career. Experiences and passions often shape the route we take in our professional lives. In this post 3 Business Analysts at Made Tech share the stories behind what led them to where they are today.
Eureka! My journey of discovery in becoming a business analyst at Made Tech
Kassidy Matthews
Eureka comes from the Ancient Greek word εὕρηκα (heúrēka), which means "I have found (it)". It's often used within mathematics as an exclamation of discovery. This is where my journey begins: at Reading University where I studied mathematics.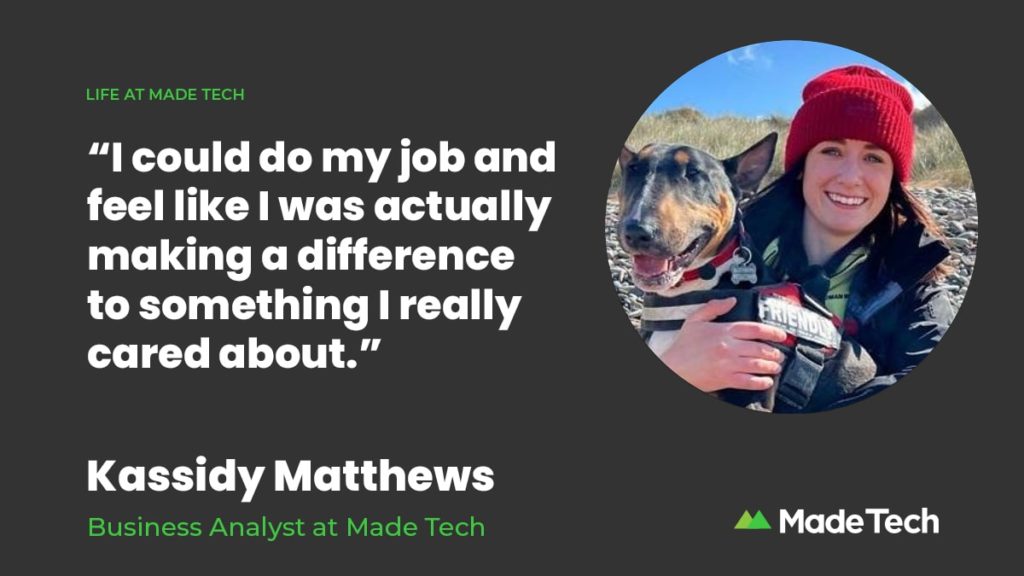 The analytical approach
There are many branches of mathematics and very early on I took a particular interest in analysis. I suppose my reason for this stems from my personal drive to understand why, and doing whatever I can to get that explanation. This is incredibly important within business analysis as recognising the underlying purpose, cause and belief, can really help in revealing the true requirements and aid in design.
Equally important is problem solving, and let's just say there wasn't a lack of problems within my courses at university to test me on this. I distinctly remember one of my favourite subjects being water waves, where we'd be given information about an underwater earthquake and asked to calculate the speed, force and radius of the consequential waves. Being able to methodically solve this problem, and then see the benefits of applying this to a real-life situation was an eye-opener, and motivated me to seek a career that could use this critical thinking.
Funnily enough, my initial pull for going to university wasn't the career opportunities it could offer, but the social life it brings. Meeting new people, building on relationships and interacting with individuals from different backgrounds helped me to build strong social skills that can help greatly when working in a squad or managing stakeholders.
Putting theory into practice
I graduated in the early summer of 2019 and was quickly pushed into finding a job by my parents' promise to start charging me rent! I had attended a few job fairs at university and I had worked out what I didn't want to pursue career-wise. But I wasn't entirely sure what it was I wanted to do. I began searching for entry business analyst roles partly because I believed it would give me a good mix of social, and analytical problem solving. But also because I needed to start somewhere. A month later I began work for a software company in the wholesale finance sector as a junior business analyst.
This was my first role in IT and even though I had some coding experience from my classes at university, I still had a lot to learn! I threw myself head first into challenges and wasn't afraid to ask questions or do further research into a topic I was unsure of. So, I was able to overcome my lack in technical knowledge very quickly and was appointed to a role within a squad which meant I was entirely responsible for data migration. Later on I was even known as the "Queen of Migration".
My first huge success as a BA was on a project in Australia where I planned and executed a large-scale, big-bang migration for the project go-live. The migration took roughly 3 days and I think I only had about 10 hours sleep across those. I distinctly remember listening to We Like to Party! by Vengaboys on repeat, at 3am on one of those days in an effort to keep myself awake.
Anyway – all those hours were eventually worth it when we successfully went live with a minimal number of hiccups. I remember feeling super-proud, as I had not only done my part in a huge project, but also made the first break into the Australian market for my company. Once we had recuperated from the weekend, we celebrated over food and drinks and it was at that moment, sitting with my colleagues whose work I greatly respected, that I knew being a business analyst was the right path for me – EUREKA!
Re-prioritising since the pandemic
A few years later my confidence had flourished and I was a fully-fledged member of the BA team. Then COVID struck, and like many, I felt helpless. How could I help? I hosted fundraising events, donated blood and even joined in on the NHS weekly clap, but it didn't feel like enough. I said to my partner, "I would just love to be able to do my job and make a difference." And as if by magic, a job advert on LinkedIn caught my beady eye. It was for a business analyst role for a company called Made Tech.
The opening sentences read, "Our mission is simple! We believe we can use tech to make public services better." I went on to research Made Tech and stumbled upon the case studies describing the benefits made while working with the public sector. I was thrilled to discover I could do my job and feel like I was actually making a difference to something I really cared about.
We're hiring for a number of BA roles at Made Tech at the moment. You can find these on our careers page. There's no "best way" to becoming a business analyst at Made Tech. This was my journey. Maybe one day I'll get to hear yours.
–
Perfect porridge: a journey to becoming a business analyst at Made Tech
Anthony Okpaloafe
My journey started as an intern Business Analyst (BA) at a consultancy helping SMEs to navigate the vast terrain of digital services. I studied a sports business and management bachelor's degree, becoming a BA was not a career I'd planned for. And not one that I was particularly familiar with. In fact, I didn't have a clue what to expect when I started this new role.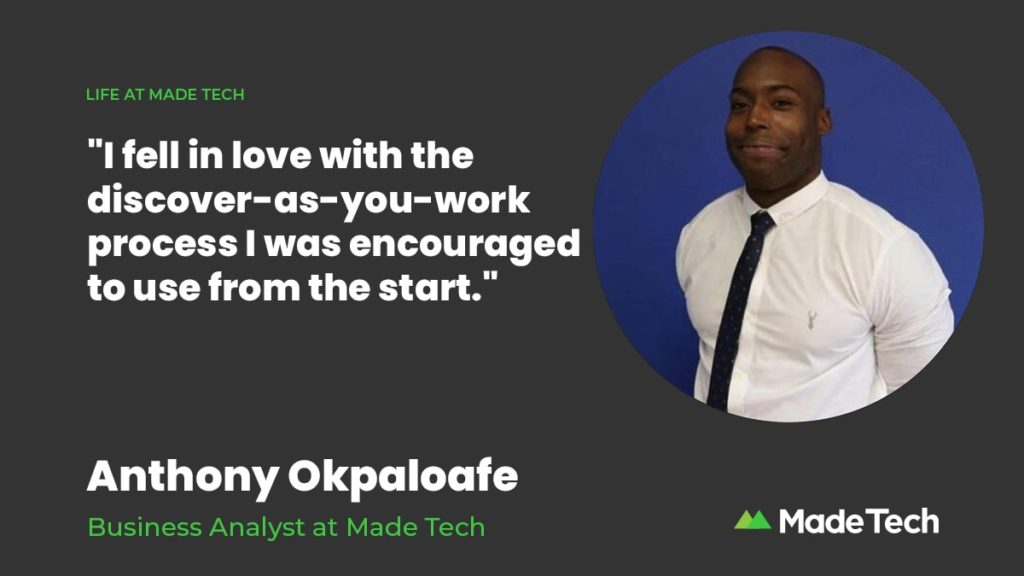 Of course, I did have some misconceptions. I had fears I'd be siloed constantly "analysing" company policies, procedures and processes. There was a worry I'd spend my time attending daunting meetings with execs endlessly throwing requirements at me.
Instead, I entered a world where I had the autonomy to establish requirements from a wide pool of users. I fell in love with the discover-as-you-work process I was encouraged to use from the start.
At each stage of a project, I'm constantly discovering and adjusting how we deliver accordingly. Each piece of work is unique as a human fingerprint. I've always been drawn to understanding the bigger picture. And I've been hooked since grasping the fundamental practices of an agile BA.
Trying out the public sector
Growing up in Hackney, Streatham and Brixton, raised by my hard-working mum who was a nurse for over two decades, the public sector played a huge part in my family life.
My gratitude for all things public sector carried me through university, particularly my experiences supporting local government projects with Gloucestershire County Council and Cardiff Council. I worked alongside experienced sport development officers and education governors to develop more inclusive, active and safer communities. I also fell in love with teaching. I was offered the chance to teach secondary level physical education while studying, and this only solidified my respect and admiration for our public sector workers.
Growing as a BA, I started to reflect on my role and how to establish myself as a fully fledged member of staff. Quite honestly, I struggled to find a reason to feel motivated by the kinds of projects coming down the pipeline.
I began to dive into my own experiences and reflect on why some gave me the motivation to stay late. Whether this was to do more research, manage student reports or sharpen workshops. Then one day during annual leave, it hit me. I needed a new endeavour where I could use and develop my BA skills while supporting projects that would help society. It was the transparency within the public sector that attracted me. I wanted to see the positive effect my work has on real people everyday.
I decided to end my contract with my first consultancy and embark on two contract experiences. The first at a local government council and the second an education federation governing over 20 further education and secondary academies around Bristol. I wanted to test the public sector waters as a professional. However, I was aware of the assumptions around a slower bureaucratic way of working, strict working hours and stubborn stakeholders.
Committing to the cause
I spent two years on local council projects, supporting YMCA outreach services and enhancing digital capabilities for students and tutors. I knew the public sector was where I'd find the intrinsic motivation I needed.
I looked for a permanent position where I could continue to use my BA skills. I stumbled across a Made Tech Job ad on LinkedIn. After giving the post a good read and doing my own research on the company, I was hooked.
From their active and innovative ways of helping modernise public sector legacy applications and working practices to its inclusive, innovative, learning-centred, feedback-valuing company culture. But once again it was the transparency of all of these elements within Made Tech that sparked my interest.
I joined the company to make a positive contribution working on projects that impact the lives of everyday people like my family. Surprisingly, I found exactly that. I'm currently supporting the DVLA's Vehicle Excise Duty Reminder project.
With my driving test looming over me in the next few weeks, it's clear that the service will be useful to me as a new licence holder. And this is exactly why I wanted to join the public sector: the relatability. Whether it's supporting digital capabilities for the Home Office, NHS or DVLA, the value is always to improve the lives of normal people.
–
A love of numbers: my business analyst journey
Mo Oshiberu
My journey so far has shown me you can be anything you want to, as long as you're focused and determined. This is my story.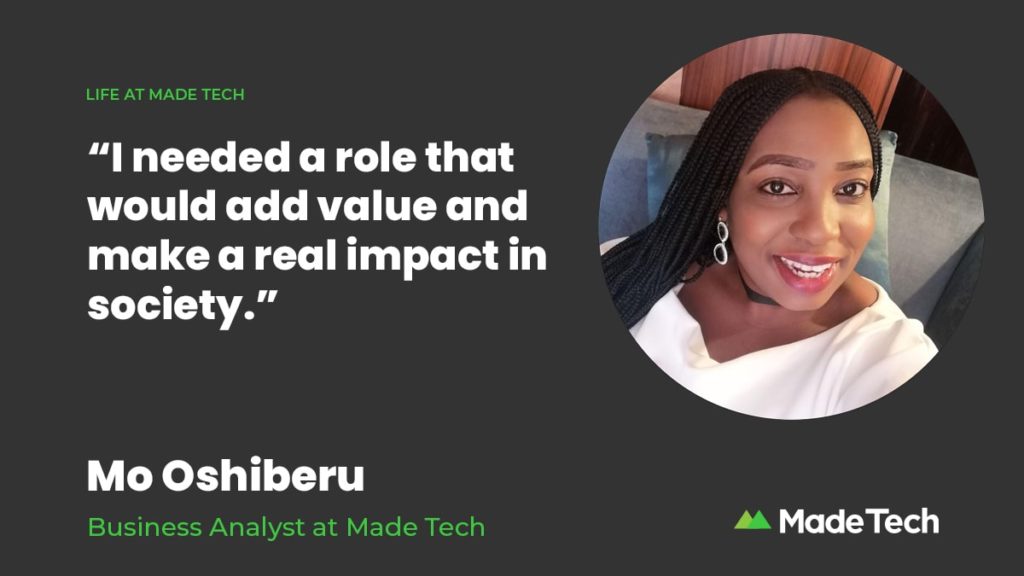 I'd always wanted to be an accountant from a very young age, and that became more apparent as my love for numbers grew – especially mathematics and accounting. I loved number-crunching and problem-solving. My passion led me to study an accounting and finance BA at the University of Kent.
After graduating and entering the job market, I realised employers looked for years of experience. I'd have to start from the bottom of the ladder to work my way up. And I did that for about 6 years and then realised I wanted more.
I wanted something that wasn't monotonous. Something more challenging and exploratory. Something that needed critical thinking, analysis and problem solving. I needed a role that would add value and make a real impact in society. It was then that I stumbled upon business analysis (BA).
I met a friend who was a Business Analysis Trainer at the time who explained the role to me. I self-studied for the BCS BA foundation, passed and applied for my first job as a BA, landing the job.
More technical, less daunting
I worked as a Business Analyst for different organisations before moving on to the Department for Work and Pensions (DWP). I want to talk about my time in DWP because that's where I gained my experience of being a rounded BA. During this time I also gained skills and experiences in mentoring and how to be an active member of a community of practice.
I was offered a business analyst role at DWP and I found myself in the integration team. For the first three months, I wondered if I'd made a mistake. Every meeting I found myself in felt like they were speaking another language.
I shadowed a contract BA until her contract ended and she had to move on. I cried so much. Everyone thought it was because she was leaving, yet it was also because I knew I had big shoes to step into.
I quickly reminded myself of my focus and determination. Slowly but steadily I learned about APIs, swagger documents, integration points, architecture diagrams, AWS – the list went on. Architects, developers and dev-op engineers became my best friends. I would attend every one of their meetings so I could pick up a new word or two.
Before I knew it I started having constructive conversations and speaking technical jargon. I found myself starting to teach, coach and mentor other BAs that joined. I had become an expert in integration. The role gave me the understanding of how the frontend links to the backend and therefore the whole picture of end-to-end processes and systems. I'll always be grateful for that.
Why Made Tech?
Made Tech sold itself to me at the first opportunity. I was introduced to the company through a friend I met on LinkedIn. I was blown away by their core values and transparency through their online handbook which tells you all you need to know about the organisation. The fact their clients are within the public sector was also a plus for me, aligning with my personal values of making a real impact in society.
My current state
I'm working as a Senior Business Analyst in MadeTech and even in this short period I've been given opportunities to grow my career. It's the place to be for any Business Analyst or those in the tech space looking for an opportunity to grow your career whilst making a difference. We have the chance to add value through being client focused, having a drive to deliver and a passion for mentoring others.
About the Authors