It's a truth universally acknowledged that local authorities face increasing expectations from their service users in the face of dwindling resources. Increasing, too, is uncertainty about what the future holds. Inflation, cost of living, budget caps, funding reforms, changing demographics – some or all look set to pose serious challenges in the years to come. And nowhere more so than in social care.
I've had many conversations with local authorities about social care workflows. It's widely understood that improvements can be made, but there's understandable hesitance about where to begin. To start to streamline social care workflows, here's my starter for 5 on the important questions that service teams should ask themselves.
1. Where are our pain points?
To work out how to get to a better place, it always helps to understand where you are, and the associated challenges. Though your team may have an intuitive grasp of all the workflows, actually mapping them out can be very useful, and reveal opportunities for improvement.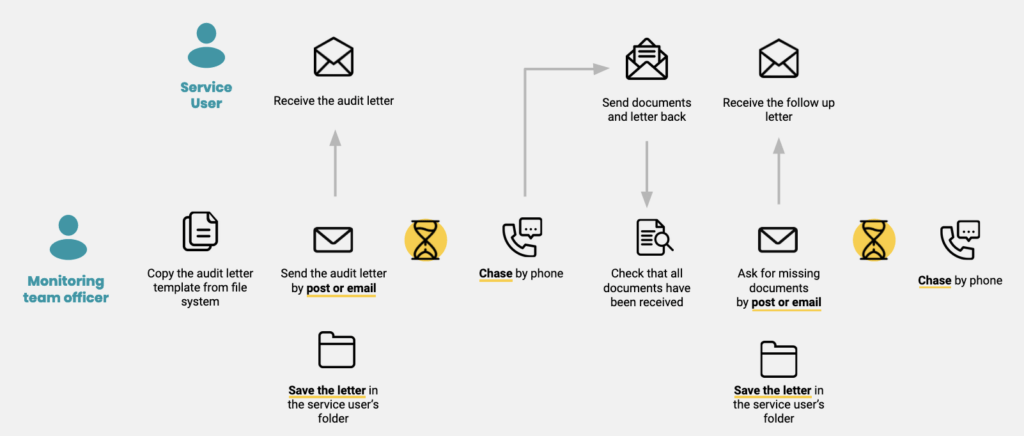 From our conversations with local authorities, it's clear that communication with service users is a significant pain point.
As an example, this image shows a simplified version of how a social care monitoring team might conduct an audit for adult social care payments. We know that some councils may have different workflows in place, but otherwise this reflects how many councils out there operate.
It's not unusual for a social care monitoring team to have touchpoints with the same service user by letter, email and phone calls to get the evidence needed to verify a user's eligibility for social care. This can lead to no end of inefficiencies: context switching (i.e. jumping between different tasks in different apps); repeated need to chase users up by phone – a further drain on officers' time. And all of these mean a higher transactional cost than using a digital channel.
This is just one workflow, but it's a good example of how opportunities for improvement can be identified.
2. What can we automate?
For now, your identified pain points will often present opportunities for streamlining your processes. The best way to streamline a process is to automate it if possible. Needless to say, automation is generally only doable with digital workflows, so digitalising what isn't already digital can be an essential prerequisite – easier said than done, we know.
Looking at your already-digital workflows, at the ideal end of the spectrum, automation would handle whole tasks in your workflow so that you can, essentially, forget about them in your day-to-day work.
For example, that could mean tooling that confirms the receipt of documents, or sends out reminders to service users when there's an outstanding action they haven't addressed within a particular time frame.
And ideally, this functionality will be embedded in your case management system. This could save significant time, not only the raw time spent on the tasks, but on the time sunk into context switching.
As an aside, the impact of context switching is often underestimated – or even ignored. In 2021, research by Qatalog and Cornell University (PDF) found that in a typical workplace:
people spend an average of 36 minutes per day context switching
it takes an average of 9 and a half minutes to settle back into a productive workflow after switching context
43% of people report that context switching is "very tiring" 😩
Another example is ID verification – an onerous task that can be largely automated with the right tools to hand.
But you can also look for smaller opportunities to automate processes with the tools you're already using. Which apps do you spend most of your time using, or – perhaps more importantly – prefer to use?
For example, if receiving emails is essential to your workflow, but you spend a lot of your working day in a communications app like Microsoft Teams, you may be able to save valuable time by routing certain emails into a Teams channel, negating some avoidable context switching.
3. What can we standardise?
After looking at what you can automate, you can also look at what you can standardise. A great example here already used by many teams are message templates you can use as a basis for your main communications with service users. But how many teams keep a folder of standard documents as a basis for their messages? It can be tempting – for ease – just to copy and paste from a recent, similar message, which carries serious risk if personal information isn't replaced.
Ideally, your message templates should be baked into the software you use to communicate with your users. They shouldn't be more than a few clicks away from your workflow, and ideally provide clear prompts for the information you need to populate. And they should also be easy to maintain and update when needed. Select, populate, review and send – and with the certainty that what you're sending is correct.
A good message template solution not only saves you time, it also helps you maintain quality. You should regularly audit your templates to make sure they're up to date, and being used by your team. If they're not properly maintained or easy to use, your team will find workarounds, and that's where both inefficiencies and errors can creep in – and proliferate.
Templates are the stand-out example for us, but take a good look at all your workflows. There may be other opportunities.
4. How can we reduce risk?
From our conversations with local authorities, one thing we hear time and again is that data privacy, security and compliance are a major concern.
We're all aware of cases in local government where the unthinkable has happened. The reality is, no organisation can be 100% guaranteed to be safe from data breaches, but there are things you can do to mitigate risk.
This is too thorny an issue to address in detail here. The requirements of the Data Protection Act 2018 alone are extremely extensive.
Chances are, you're already on top of, and compliant with, all the necessary regulations. But there may still be the opportunity for efficiency. The relative benefits of on-premises data storage versus cloud-based storage have been endlessly debated over the years, but without doubt the weight of opinion has shifted in favour of cloud, where leading hosting providers like AWS offer robust data security and privacy tools that, if correctly employed, simplify this complex requirement..
None of this means you're no longer responsible for data, and there are numerous questions you should pose to potential providers. But using the right cloud-hosted solutions can mean you can offload some of the day-to-day hassle of making sure your workflows stay compliant, saving significant time and worry. However, cloud technology expertise is needed to get up and running.
5. How can we make life better for our users?
We've saved this for last, but we know that for all local authorities, making life better for users – making things simpler and faster for them – is top priority.
When it comes to reducing the overall duration between the user's first point of contact to a resolution of their case, much of the advice above should help. Anything that helps you to get things done more quickly has a knock-on benefit to your users. Win-win.
But perhaps more importantly, there are considerations for how service users experience their interactions with your organisation in the moment. Receiving paper correspondence can be a weighty mental burden. Receiving phone calls isn't always convenient, and for some people an unwelcome intrusion. And in sum, these interactions can create the impression of disjointed customer service.
If you have a digital service that provides a better experience than other channels, take every opportunity to promote it. State the URL in every letter and every phone recorded message and script. Along with that, state the benefit of using the digital service – "it takes an average of x minutes by phone, but y minutes online", for example.
Though, there are almost always opportunities to improve the digital offering you provide, escaping limiting or outdated legacy technology will become essential – if it isn't already.
Solving one problem at a time vs. all at once
Small, incremental improvements based on current tooling are almost certainly possible, but ultimately, a modern holistic technological answer to these concerns is the best approach. Over time, it will certainly save significant time and expense. We know these are commodities in short supply, and which local authorities can put to better use.
We've been working hard on ways to streamline social care, and we're keen to show it to local authorities at our showcase: Introducing Made Tech Evidence: social care direct payment monitoring. Sign up to watch.
Watch a showcase of our Evidence product to see how it could help with your council's social care direct payment monitoring.
Watch the showcase
About the Author